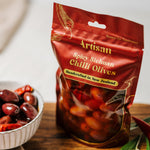 Kiwi Artisan Spicy Sichuan Chilli Olives
Regular Price

$9.95

Sale Price

$9.95

Regular Price

Unit Price

per
Enjoy these delicious Kalamata olives, infused with  spicy chilli oil crafted from the Sichuan Pepper simmered with garlic, fennel and ginger!  Each olive bursts with a zingy intense flavor. Not super hot, just medium heat and perfect for every spicy chilli lover. 
A unique collaboration with Pepper & Me Sichuan Chilli Oil, infused into our olives for a sensationally spicy combo. Store in a cool dark place for up to 12 months and enjoy when those olive cravings hit!
Enjoy free shipping to New Zealand and Australia on all orders over $60. Thanks for supporting small batch artisan producers.
Enjoy free shipping on all orders $60 and over across New Zealand and Australia. Standard shipping rates apply for all other Kiwi Artisan goods. 
USA, we're now available on Amazon. Click here to shop via Amazon.
The following delivery times are guides only;
NZL express tracked delivery: 2-3 days
AUS express tracked delivery: 2-5 days
Can I track my order?
Yes! You'll receive email confirmation from us that your order has been dispatched, and your tracking code can be found in this email. Please reach out at our contact page if you didn't receive this. 
Can I include a personal message? 
Of course you can. Please enter this in the order notes section during checkout and we will handwrite this message for you. Reach out at our contact page if you couldn't find this.
What are the payment options? 
We accept credit and debit cards - Visa or MasterCard. Not to worry,  your credit card details are not seen, or stored by us.  
Do my goods need to be refrigerated?
Our collection of small batch products are shelf-stable and do not require refrigeration. Once opened, please refer to the back of the packing for storage recommendations. 
Where else in the world do you ship to?
We are excited to announce shipping is now available from Australia, which means faster delivery times of our goods to your doors. Plus, enjoy free shipping to anywhere around NZ/ Australia on all order $60 and over. We are now available on Amazon for our USA friends. Click here to shop via Amazon.
Can I pick up my order? 
We are an online store so we do not offer pickups sorry. Sit back and relax, we'll ship the box right to your front door. 
Do you accept international payments? 
Yes we do, but the delivery address must be in New Zealand or Australia. This is a great option for friends or family abroad to spoil their loved ones. Amazon available for the USA.
What is the best way to get in touch? 
Head over to our contact page to send us a message. Or email us direct at kiaora@kiwiartisan.co.nz
Regular Price

from $9.37
Sale Price

from $9.37

Regular Price

$9.99
Unit Price

per
Regular Price

$15.63
Sale Price

$15.63

Regular Price

$18.14
Unit Price

per
Regular Price

from $9.95
Sale Price

from $9.95

Regular Price

$15.63
Unit Price

per